BOOK TOUR SPOTLIGHT: Staying Grounded in Shifting Sand by Linda Ferguson
Staying Grounded in Shifting Sand
Awakening Soul Consciousness in the New Millenium
by Dr. Linda J. Ferguson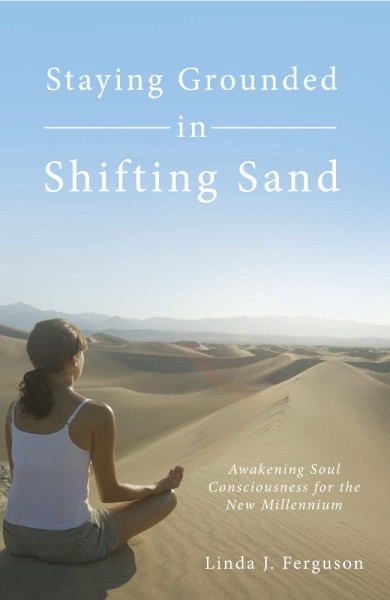 Book Description
Staying Grounded in Shifting Sand provides insightful stories and ideas to support your spiritual journey and help you answer your soul's calling. Inside you'll read how to step fully into who you are as an awakened soul being. You'll read ways to apply spiritual principles for daily challenges and stressors of relationships, finances, work, or family.  You'll learn how to connect with the joy and beauty of who you are as a spiritual being through your various human experiences.
You'll learn ways to shift how you experience your world using the affirmations, meditations, and visualizations provided in each chapter. A new process called Transformational Empowerment™ shows seven key steps for manifesting your heart's desire and fulfilling your soul contracts.
You've already signed up to be an agent for spiritual transformation, in your own life and in the world.  Staying Grounded in Shifting Sand is a spiritual guidebook to help you navigate through your daily stresses, spiritual tests, and challenging relationships. It also is a celebration of the joy you are here to experience as a conscious co-creator.  Each chapter ends with concrete, meaningful exercises for you to use immediately!
About the Author
Dr. Linda J. Ferguson is an author, speaker, coach, and seminar leader to support people leading a joyful and awakened spiritual life. Linda's website,www.lindajferguson.com , contains videos, meditations, affirmations, and other useful resources for spiritual growth and personal development.  Readers find inspiring and informative ideas in Linda'sblog to enrich their spirituality for everyday living-www.lindajferguson.com/blog/ .
Dr. Ferguson earned her Ph.D. from Indiana University (I.U.-Bloomington) in Organizational Behavior with a Masters also from I.U. studying Social Psychology. She has taught undergraduate and graduate courses in psychology and management.  Linda did her coach training in 2004 from Coach Training Alliance, completed her certification in Team Coaching, and has CCE credits from International Coach Federation (ICF).
In 1994 she traveled abroad for six months to Asia, Australia, Israel, and Europe before moving to Virginia where she currently lives.  Her personal spiritual practice includes daily prayer and meditation, Sufi Dances of Universal Peace, Integral Yoga, Native American Sweat Lodges and other Earth-based ceremonies.