BOOK TOUR REVIEW: Sweetest Taboo by Eva Marquez
Sweetest Taboo
by Eva Marquez
Sweetest Taboo Series, Book One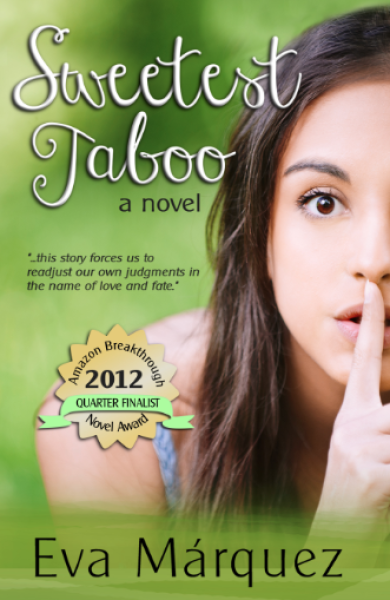 Book Description
Isabel Cruz was fifteen years old when she met Tom Stevens. She was 15 when they started dating, and 16 when she lost her virginity to him. By the time she turned 18 and went to college, everything had fallen apart.
This hadn't been an ordinary love, though. Not a love between two dear friends, or even high school sweethearts. This had been the most taboo sort of love there was: a relationship between a student and her teacher. Isabel started her high school career as a normal student, but set her sights on Tom Stevens as soon as she met him, and pursued him with an intense – and sometimes reckless – fascination. When he finally approached her after swim practice and told her that he shared her feelings, it was the start of a forbidden and dangerous relationship.
Join Isabel as she makes her way through this dark love story, hiding from teachers, lying to her parents, and defying the authorities to make a life with the man she loves. Watch as she discovers the wonders of love and romance, and the terrible betrayal of jealous friends. And cry with her when she learns the hard truth about life and the people in her world.
Sweetest Taboo is inspired by the true and tragic stories of students who fall in love with their teachers, and live with the hard truths of forbidden romances. In a world full of after-school specials on sexual predators, this touching book seeks a different path, casting both student and teacher in a gentle light, and showing that true love may lie at the base of even the most illicit romance.
MY THOUGHTS: 3 OUT OF 5 FLEURS DE LIS
Isabel Cruz is 15 years old, beautiful, and on the school swim team. In this position, she can have her pick of any of the guys in her high school–but her swim teacher, more than twice her age, is the guy who catches her eye.
As Isabel begins a clandestine relationship with Tom, she realizes she has so much more to worry about than simply getting caught. Tom and Isabel's relationship puts so much in jeopardy–yet they can't stay away from each other. Is there any possible way this relationship ends on a good note?
I knew this book would probably give me mixed feelings, and I was right. It's not that I didn't enjoy the story…but because of the content, I had a hard time reading it without being prejudiced. The fact that the intro says the events were based on a true story did not make it easier to digest.
Isabel is not my favorite. She's narcissistic, selfish, and astonishingly naive. However, given the fact that for most of the story she is 15/16 years old, it's hard to hold all that against her. Teenage girls are the epitome of those characteristics. But it's not all of this that made me dislike her; it's the fact that she continued to make increasingly bad decisions. I'm not even speaking about the relationship between her and her freaking married teacher–that's the worst decision she made, true. Just other things…keeping copies of the letters he wrote her, calling him at home, etc. And then when it came to other guys, she was the worst. Isabel led these guys on, telling herself that she was just trying to get them out of her hair. But, when you're getting into an engaged guy's car to go to park in a secluded spot, WTF do you THINK is going to happen?!? I could go on and on about this girl forever, but let's move on.
Obviously, Tom made a horrific decision when he started pursuing a 15 year old. He should have known better, and then after getting turned in to the police and being investigated, he still doesn't stay away from Isabel. There's no way to know if he is telling the truth about not really loving his wife, or that Isabel is the first or only teenage girl Tom has ever preyed upon. He speaks some sweet words, but the man is shady beyond a doubt.
As I said, because of the very content of this book, it's hard to rate it; the plot and the writing are hard to separate in my mind. Ms. Marquez's storytelling style is very matter of fact, and moved quickly. However, the book dragged for me in the middle part (Chile). I also don't understand the need for this book to turn into a series.
I'm not sure who to recommend this book to–definitely someone who won't be bothered by its' content. This is not a young adult book by any means. I congratulate the author for penning a well written book about such a touchy subject, but the characters kind of made the story a letdown.
About the Author
Born in Buenos Aires, Argentina, daughter of European immigrants, Eva Márquez has spent most of her life outside of her home country. At the age of five, Eva accompanied her parents to the United States, where the family settled permanently. After graduating from university, she went on to complete graduate studies in International Relations in Spain. Eva received her Master of International Studies degree from the University of Sydney and went on to work in the global health field in Sub Saharan Africa and South East Asia. Eva currently resides in Southern Africa.
Her latest book is the YA/Adult Fiction, Sweetest Taboo.
You can visit Eva's website at www.SweetestTabooBook.com
Stalk Eva!
BUY ONLINE