REVIEW & GIVEAWAY: Strange and Ever After by Susan Dennard
Strange and Ever After
by Susan Dennard
Something Strange and Deadly, Book 3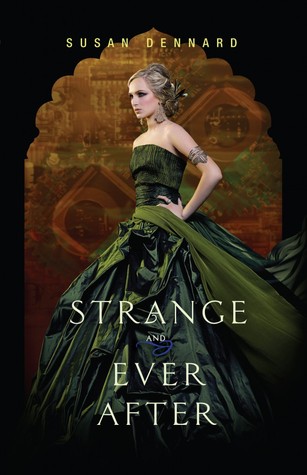 Book Description
In the conclusion to the trilogy that Publishers Weekly called "a roaring—and addictive—gothic world," Eleanor Fitt must control her growing power, face her feelings for Daniel, and confront the evil necromancer Marcus…all before it's too late.
He took her brother, he took her mother, and now, Marcus has taken her good friend Jie. With more determination than ever to bring this sinister man to justice, Eleanor heads to the hot desert streets of nineteenth-century Egypt in hopes of ending this nightmare. But in addition to her increasingly tense relationships with Daniel, Joseph, and her demon, Oliver, Eleanor must also deal with her former friend, Allison, who has curiously entangled herself in Eleanor's mission.
With the rising dead chomping at her every move and Jie's life hanging in the balance, Eleanor is convinced that her black magic will see her through to the bitter end. But there will be a price. Though she and the Spirit Hunters have weathered every battle thus far, there will be consequences to suffer this time—the effects of which will be irreversible. And when it's over, only some will be able to live a strange and ever after.
Susan Dennard will leave readers breathless and forever changed in the concluding pages of this riveting ride.
MY THOUGHTS: 4 OUT OF 5 FLEURS DE LIS
This is one of my favorite series I've ever read.  It's also the only steampunk type series I've ever read.  I originally started the series because of the promise of zombies, but I got into it quickly and discovered the books were about a lot more than just that.
The final novel starts out right in the middle of where the previous book left off.  This can be a problem if it has been a long time since you read the books in the series, as was the case with me.  The author does drop some hints about what happened to get us up to the point where we are, but I ended up having to Google to recall who certain characters were and I still found myself a bit lost at times.
Thankfully, the action in Strange & Ever After is immediate, and I found myself once again lost in Eleanor's world.  You can tell that Eleanor has changed so much, not just over the course of the series, but actually from one book to the next.  She has experienced so much loss at the hands of Marcus, that her singular fixation is on making sure he is destroyed.  She doesn't intend to let anyone get in her way, be they friend or foe.
The reader can tell Eleanor's magic has changed her as well.  She is no longer tentative about using it, even though internally she is struggling with the thought of taking it too far.  Her use of necromancer magic has many effects: it physically drains her; it puts her at odds with her fellow Spirit Hunters; it makes her forget any sense of propriety she ever had.  I'm not going to say I didn't like Eleanor in this novel, but her new demeanor did take a lot of getting used to, and I felt bad for some of the interactions she had with other characters.
I'm still undecided on whether I liked the ending.  I think I'm going to go back and give it a second glance and maybe change up this review a bit.  I will say that I'm happy I read this series; as I stated before it's one of my favorites from start to end.  I definitely recommend it to steampunk fans, zombie fans, romance fans, and anyone who loves to see the main characters grow and change throughout a series.  Very well done, Ms. Dennard.
About the Author
I am a writer, reader, lover of animals, and eater of cookies. I used to be a marine biologist, but now I write novels. And not novels about fish either, but novels about kick-butt heroines and swoon-worthy rogues (I reallylike swoon-worthy rogues).
I live in the Midwest with my husband and two dogs (Asimov and Princess Leia), and you can learn more about my crazy thoughts and crippling cookie-addiction on my 
blog
 or 
twitter
.
My debut, SOMETHING STRANGE AND DEADLY is now available from HarperTeen along with the prequel, A DAWN MOST WICKED, and the sequel A DARKNESS STRANGE & LOVELY.
Look for STRANGE & EVER AFTER in summer 2014 and TRUTHWITCH in fall 2015!
Note: I am on Goodreads to READ. So, if you want to discuss books and the joys of literature, add me as a friend!
BOOK LINKS:
1 HB copy of Strange and Ever After (Us only)
1 E-book of Strange and Ever After (INT)
– Must be 13 or older to enter
– Giveaway starts JULY  until JULY 14th to July 22nd
– All entries are double-checked and false entries will be disqualified
– Winner will be notified via email and needs to answer in 48 hours letting us know if he/she accepts the prize and send us his/her full name and address.
– Your personal information won't be used or be seen unless you're the winner of the giveaway. We won't sell it nor use it in a bad way.
– Tour Hosts are not responsible for any lost or stolen items