BOOK TOUR REVIEW: Help for the Haunted by John Searles
Help for the Haunted
by John Searles
Mystery/Family Drama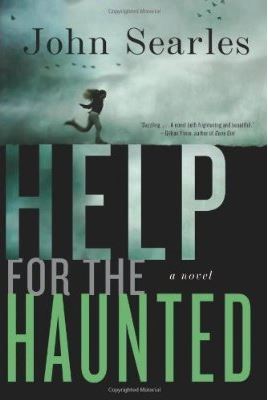 Book Description
It begins with a call in the middle of snowy February evening. Lying in her bed, young Sylvie Mason overhears her parents on the phone across the hall. This is not the first late-night call they have received, since her mother and father have an uncommon occupation, helping "haunted souls" find peace. And yet, something in Sylvie senses that this call is different than the rest, especially when they are lured to the old church on the outskirts of town. Once there, her parents disappear, one after the other, behind the church's red door, leaving Sylvie alone in the car. Not long after, she drifts off to sleep only to wake to the sound of gunfire.
Nearly a year later, we meet Sylvie again struggling with the loss of her parents, and living in the care of her older sister, who may be to blame for what happened the previous winter.
As the story moves back and forth in time, through the years leading up to the crime and the months following, the ever inquisitive and tender-hearted Sylvie pursues the mystery, moving closer to the knowledge of what occurred that night, as she comes to terms with her family's past and uncovers secrets that have haunted them for years.
MY THOUGHTS: 3.75 OUT OF 5 FLEURS DE LIS
Help for the Haunted by John Searles
There were three things about the description of this book that made me want to read it: it's a murder mystery, it has a touch of the supernatural, and it's told from the point of view of a child. All three of these things blended together beautifully and really made the book a fun read for me.
Sylvie Mason is slowly trying to put her life back together after the murder of her parents. A freshman in high school, she's currently in the guardianship of older sister Rose, who has been volatile in the past to say the least. As Sylvie tries to work through her jumbled feelings about the night of the murder, she eventually also starts to work out what the truth really is, both about the murders and her parents.
Sylvie is 14 years old and while at times she can seem wise beyond her years, she also still has some of her childlike innocence, even in the face of the life she has led so far. Rose, four years older than Sylvie, was named for her mother but couldn't be any more different than her. While Rose had a lot of arguments and misunderstandings with her parents during her teenage years, for the most part she never took it out on her younger sister. Rose and Sylvie are such different girls though, that it was impossible for them to always see eye to eye.
The Masons held an unusual job: they traveled the country offering "help for the haunted," bringing peace to those claiming to be plagued by some demon or spirit. They often brought their work home with them, and as they became more well known, it made the girls' lives tougher. Kids teased Sylvie, telling her that her parents were crackpots and so she must be too. But it wasn't only kids that were detractors for the Masons' work; they had plenty of adults against what they were doing as well–within their own family as a matter of fact. All of these different aspects made it a challenge for the reader to figure out the motive and killer.
In the end, I was quite surprised by the truth–I can definitely say I didn't see it coming. While in a way I think it was disappointing, in another way I really appreciate what the author did. Sometimes bringing something out of left field doesn't work in a book, but when it ties everything together, it can work nicely.
I was left with a ton of unanswered questions, but then again, so was Sylvie. I enjoyed going on her journey for the truth and can only hope she puts her life together to have some semblance of normalcy for the future.
About the Author
John Searles is the author of the national bestsellers Boy Still Missing and Strange but True. He frequently appears as a book critic on NBC's Today show and CBS's The Early Show. He is the Editor-at-Large of Cosmopolitan. His essays have been published in the New York Times, the Washington Post, and other national newspapers and magazines. He lives in New York City and can be found on Facebook and also on Twitter: @searlesbooks.
Purchase Links
Amazon | IndieBound | Barnes & Noble
Special offer for book clubs:
Book clubs that sign up to chat with John Searles about Help for the Haunted could win a tote bag of books for each member of their book club! Find out more details about John Searles' goal to speak to a book club in each state of the United States over at Book Club Girl!