REVIEW: Mary Hades by Sarah Dalton
Mary Hades
by Sarah Dalton
YA Paranormal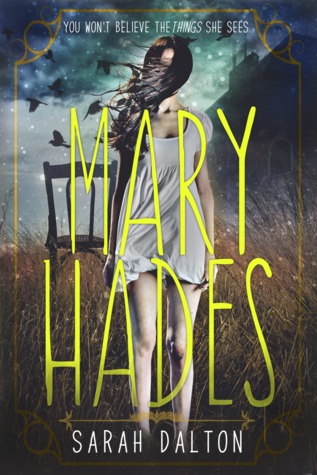 Book Description
Not many seventeen year old girls have a best friend who's a ghost, but then Mary Hades isn't your average teenager.
Scarred physically and mentally from a fire, her parents decide a holiday to an idyllic village in North Yorkshire will help her recover. Nestled in the middle of five moors, Mary expects to have a boring week stuck in a caravan with her parents. Little does she know, evil lurks in the campsite…
Seth Lockwood—a local fairground worker with a dark secret—might be the key to uncovering the murky history that has blighted Nettleby. But Mary is drawn to him in a way that has her questioning her judgement.
Helped by her dead best friend and a quirky gay Goth couple, Mary must stop the unusual deaths occurring in Nettleby. But can she prevent her heart from being broken?
MY THOUGHTS: 2 OUT OF 5 FLEURS DE LIS
As it was not told to me before I started this book, I'm telling you as a fellow professional reader: I STRONGLY encourage you to read the prequel novella before starting Mary Hades. This is the first book I've read that had a prequel novella, where the events that happened in that prequel were mentioned at all. In fact, the events are mentioned so much that while reading you kind of feel like you missed out on a lot. It's almost more like starting a second book in a series rather than a first.
Anyway, I did come to understand what was going on, though maybe not as fully as I'd have liked to. Mary Hades (yes, her real name, poor thing) is a high school girl who was committed for psychosis, because she happens to be able to see ghosts. Mary left her mental facility prematurely because of some incident that happened with a doctor trying to kill her there (one of those prequel events!), so I'm assuming she never really got the help she should have. She is, as far as her parents know, controlling things with medication. But Mary doesn't tell them things are not under control at all. As a matter of fact, she talks to her dead friend Haley almost constantly.
In spite of all this, Mary's parents think it will be a good idea for the family to take a vacation. Before they even get checked in, a death occurs, and Mary learns it's probably connected to the ghost of a little girl named Amy who was violently murdered in the area. With the help of a local, Seth, she sets out to learn the truth about Amy and maybe set her free from her earthly torment.
Mary's parents are not at all the beacon of good decisions in this book. Their daughter, who not too long ago WAS IN A MENTAL INSTITUTION, is allowed to roam about freely. And when they learn she's dating a guy she just met, they encourage her to go out with him. This all really bothered me a lot, but as is done too often in YA, the parents need to be out of the picture so the main character can do whatever she is doing uninterrupted.
Seth and Mary's relationship moves way too fast and though they have a couple of intense moments that may have made them feel closer than they really were, the chemistry was not at all there for me and I thought most of their interactions felt forced.
The idea of someone who can see dead people and possibly help them be laid to rest is very intriguing to me, but the potential of this was not fully realized by Mary Hades. As a matter of fact, there was a moment towards the end involving one of the spectres Mary sees that was completely out of left field, unexplained, and just left me wondering what the heck had just happened.
The end of this book was actually the best part, but I don't think I will be continuing on this series. I couldn't connect with the characters at all, and it's sad when the ones you like the most are the ghosts.
About the Author
Sarah grew up in the middle of nowhere in the countryside of Derbyshire and as a result has an over-active imagination. She has been an avid reader for most of her life, taking inspiration from the stories she read as a child, and the novels she devoured as an adult.
Sarah mainly writes speculative fiction for a Young Adult audience and has had pieces of short fiction published in the Medulla Literary Review, PANK magazine, Apex Magazine and the British Fantasy Society publication Dark Horizons. Her short story 'Vampires Wear Chanel' is featured in the Wyvern Publication Fangtales.
She is the author of the popular YA dystopia series 'Blemished' and the gothic novella 'My Daylight Monsters'. She is currently working on a YA Fantasy series titled 'White Hart'.