REVIEW: Darkness by Elizabeth Arroyo
Darkness
by Elizabeth Arroyo
YA Thriller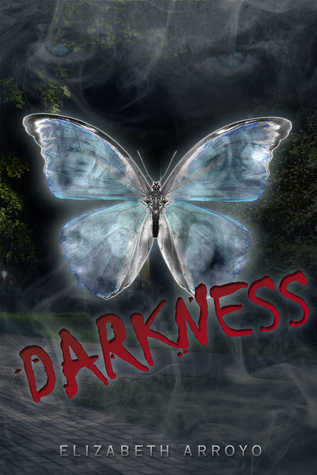 Book Description
Seventeen-year-old Carly Lopez suffers from post-traumatic stress, though the "post" part technically doesn't apply…not when the killer is still out there.
As the only survivor of the killing spree that left four dead girls in its wake, Carly fails to unearth her buried memories of that day and is consumed with guilt. After a year of silence, the killer is back, and Carly will stop at nothing to catch him.
With each new death, Carly's reality shatters, propelling her deeper into the darkness where the dead haunt her—but where the truth lies. Her only firm grasp of reality is Hunter Jackson, whose mysterious overprotectiveness of Carly forces her to doubt the reason behind her guilt.
But Hunter has a secret.
And when Carly discovers a horrible truth, she questions her involvement in the murders. Was she directly responsible? Did she help the killer? Carly soon learns that finding answers may mean risking more than just her sanity.
MY THOUGHTS: 1 OUT OF 5 FLEURS DE LIS
I feel like I'm on an unlucky streak with my reading right now, as this was another book that I could not get into and fit into the same mold of throwing too many questions at you and not enough answers.
High schooler Carly is thrown into the middle of a police investigation into a murder. This is because she was the only living victim of the killer they suspect is behind the latest body. This information didn't come from the book–because the author throws the reader into the middle of things without giving you a clue as to what's going on–it's from the synopsis. Carly is understandably still very shaken from her experience, but she's also determined not to let the killer strike again.
In a not so surprising fashion, here is where hottie new guy Hunter enters..and gasp, he has a secret! At this point I'm so tired of reading this in YA I'm not even going to go into it, but you should know that this type of dude is a huge cliche, but of course he's sexy so Carly falls for him fast.
I wasn't interested enough to finish the book and find out Hunter's secret, or even what happens with the killer. The only cool aspect of the book for me was getting a glimpse into Carly's psyche, as her imagination runs wild as so many of ours do.
Avoid this one if you hate cliches.
About the Author
Elizabeth spent most of her younger years as an avid reader with a wild imagination which led her to write her first manuscript at the age of fourteen. Her fascination with the paranormal was influenced by the vivid ghost and demon stories her father told her as a child, scaring the crap out of her. It also led her to ask the "what if" question that propelled her down the path of the fantastical.
But, life got in the way. Elizabeth completed a Bachelors degree in Psychology with a minor in Criminal Justice at Northeastern Illinois University and works in the community strengthening families. Her love of stories held, and in 2008 she found herself back into her storytelling roots and began writing again. Since then she's published a short story in SQ Magazine, countless musings on her blog – Chandara Writes, and completed three manuscripts.
In 2012, Elizabeth signed with Sapphire Star Publishing to release her debut novel, THE SECOND SIGN, a Dark YA Paranormal Romance, slated for an early 2013 release.
Elizabeth resides in Chicago with her family, a household of kids, and the bliss of chaos. The good kind.
You can find more information about Elizabeth at:
Website: http://www.elizabetharroyo.com.
Facebook: http://www.facebook.com/elizabetharroyo.author
Twitter: https://twitter.com/EArroyo5