REVIEW: The Girl Who Came Back to Life by Craig Staufenberg
The Girl Who Came Back to Life: A Fairytale
by Craig Staufenberg
Fantasy/Fairy Tale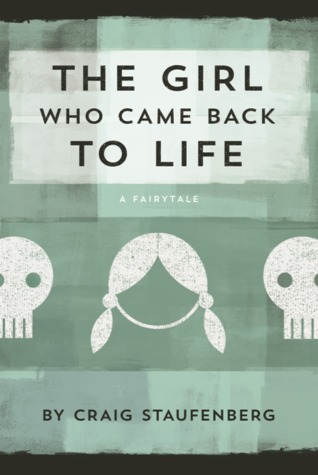 Book Description
When you die, your spirit wakes in the north, in the City of the Dead. There, you wander the cold until one of your living loved ones finds you, says "Goodbye," and Sends you to the next world.
After her parents die, 12-year-old Sophie refuses to release their spirits. Instead, she resolves to travel to the City of the Dead to bring her mother and father's spirits back home with her.
Taking the long pilgrimage north with her gruff & distant grandmother—by train, by foot, by boat; over ruined mountains and plains and oceans—Sophie struggles to return what death stole from her. Yet the journey offers her many hard, unexpected lessons—what to hold on to, when to let go, and who she must truly bring back to life.
MY THOUGHTS: 3.75 OUT OF 5 FLEURS DE LIS
The Girl Who Came Back to Life: A Fairytale by Craig Staufenberg
When 12 year old Sophie loses her parents suddenly, her entire life is flipped upside down. She is forced to live with her cold grandmother, who barely acknowledges her existence. In the midst of this, Sophie knows she has to take on the monumental task of being the one to make the perilous journey North to lay her parents' spirits to rest.
Sophie is a strong girl. Once she sets her mind to something, she sees it through, no matter what stands in her way. Though she makes some not so smart spur of the moment decisions, she is mature enough to deal with the consequences and set things right as best she can.
One thing I found intriguing about this story is that the only character who has an actual name is Sophie. Everyone else in her world is referred to as what they are: "the baker," "the soldier," "the grandmother." They are also sort of anti-stereotypical of what you'd think the characters would be. Though you don't get to know most of the other characters very deeply, you get to know enough to learn that everyone has more than one side.
There were some very touching moments towards the end, and though the story didn't have a traditional happily ever after, you get the sense that everything will be OK for Sophie.
About the Author
Craig Staufenberg is a writer and filmmaker living in NYC.
Buy 'The Girl Who Came Back To Life':
Amazon
Barnes & Noble
Book Depository