BOOK TOUR REVIEW & GIVEAWAY: Hellhole by Gina Damico
 Hellhole
by Gina Damico
YA Supernatural/Humor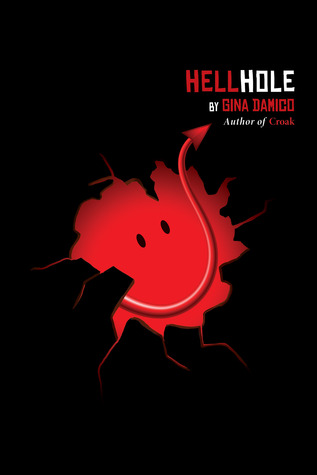 Book Description
A devil is a bad influence . . .
There was a time when geeky, squeaky-clean Max Kilgore would never lie or steal or even think about murder. Then he accidentally unearths a devil, and Max's choices are no longer his own. The big red guy has a penchant for couch surfing and junk food—and you should never underestimate evil on a sugar high. With the help of Lore, a former goth girl who knows a thing or two about the dark side, Max is racing against the clock to get rid of the houseguest from hell before time, and all the Flamin' Hot Cheetos this side of the fiery abyss, run out. Gina Damico, author of the Croak series, once again delivers all the horror, hilarity, and high-stakes drama that any kid in high school or hell could ever handle.
MY THOUGHTS:
4 OUT OF 5 FLEURS DE LIS
It's my opinion that Gina Damico is one of the best modern YA authors in the biz right now. Her series Croak was hilarious, and I knew by the description that this book would be in the same vein of dark humor.
Max Kilgore is a dorky dude with a cool name. When he's not working at the local convenience store, playing with his model dinosaurs, or hanging out with his one friend, he's taking care of his ailing mother. Max would do anything to see her get better…and he gets his chance when he somehow frees a devil from hell.
First off, I really love novels written from a male's point of view. They are so rarely done that I often seek them out. I like to get inside the mind of a guy and see how they are feeling in certain situations. Often I have found that they seem just as neurotic as women when it comes to some things.
Max isn't exactly a loser, but he is a loner. He just doesn't have the time or the interest to make friends. His best friend is actually his mom, which is sweet but also sad because the is on the verge of dying any day.
The devil in this story, Burg, is definitely one heck of a character. he has a penchant for video games, booze, unhealthy snacks, and hot tubs. The author does a nice job of making you feel that maybe he's not too bad…and then hitting you with something heinous.
There is romance in this story, but don't expect it to be sappy or saccharine sweet. Max knows he likes Lore, but often tells her to shut it or puts his foot in his mouth in other ridiculous ways. I'm not really sure why Lore stuck with him, actually, expect maybe that she saw through all his awkwardness and didn't take his curtness personally.
I found the end to this novel pretty funny and unexpected, though it was very abrupt. I am on the fence about a couple of things, because it seems a lot of bad things had to happen for one good thing. But, maybe I have a little devil in me, because I think it was all worth it in the end.
About the Author
Gina Damico is the author of Croak, Scorch, and Rogue, the grim-reapers-gone-wild books of the Croak trilogy. She has also dabbled as a tour guide, transcriptionist, theater house manager, scenic artist, movie extra, office troll, retail monkey, yarn hawker and breadmonger. A native of Syracuse, New York, she now lives outside Boston with her husband, two cats, and one dog, and while she has never visited hell in person, she has spent countless waking hours at the Albany Regional Bus Terminal, which is pretty darn close. Visit her website at www.ginadami.co.
WEBSITE | TUMBLR | TWITTER | FACEBOOK
| INSTAGRAM | YOUTUBE | GOODREADS
We are giving away a Hardcover copy of HELLHOLE to TWO WINNERS
Giveaway is open to anywhere The Book Depository ships.
Giveaway ends on January 21st at 11:59 p.m. Pacific.
ALSO–A SPECIAL GIVEAWAY FROM GINA DAMICO!
Hey there book fans! I'm running a Follow Frenzy giveaway over the course of this blog tour, and the prize is pretty neato: a signed copy of HELLHOLE wherein each chapter will have a little bit of trivia and/or a doodle handwritten by yours truly. (Gina) (Damico) To enter, all you have to do is follow me on one or more of my various social media outlets (Twitter, Facebook, Tumblr, Instagram, Youtube), then fill out this adorable little form: https://docs.google.com/forms/d/1MbfSsZCiALw_I_C7WpI0d71hPNe0b94Ot89sxFesUzM/viewform . That's it! The more things you follow, the more chances you will earn to win. Good luck!
The Tour Schedule
Week One
Jan. 5 – Xpresso Reads – Guest Post
Jan. 5 – Fiction Fare – Spotlight
Jan. 6 – Paranormal Book Club – Guest Post
Jan. 6 – Two Chicks on Books – Spotlight
Jan. 7 – A Dream Within A Dream – Review
Jan. 7 – Book Jems – Guest Post
Jan. 8 – BookHounds YA – Interview
Jan. 8 – YA Midnight Reads – Dual Review
Jan. 9 – Novel Novice – Guest Post
Jan. 9 – Consuming Worlds – Interview
Week Two
Jan. 12 – Once Upon a Twilight – Review
Jan. 12 – Book Sniffers Anonymous – Interview
Jan. 13 – No BS Book Reviews – Interview
Jan. 13 – The Best Books Ever – Review
Jan. 14 – Teen Readers' Diary – Guest Post
Jan. 14 – The Book Bratz – Review
Jan. 15 – Sweet Southern Home – Review
Jan. 15 – Eli to the nth – Review
Jan. 16 – Bad Bird Reads – Guest Post
Jan. 16 – Crossroad Reviews – Review