BOOK TOUR SPOTLIGHT: Believers: Truth in Deception by Tamara Taylor
 Believers: Truth in Deception
by Tamara D. Taylor
New Adult Dystopian/Romance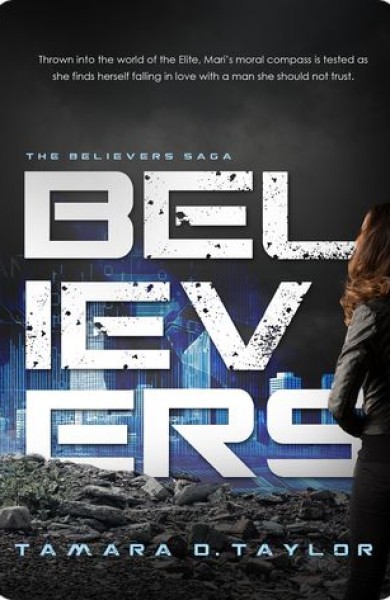 Book Description
Mary lives in a world of the future where an anti aging drug has torn society apart, creating an insurmountable divide between the wealthy and the poor. Her life is thrown sideways after she receives an unsolicited promotion at work, which leaves her as assistant to one of the most notorious playboys of the wealthy elite.
Mary struggles to find solid footing in a world that drastically conflicts with her humble upbringing. Her moral compass is tested as she finds herself falling in love with a man she knows she should not trust,  compromising her relationship with her childhood sweetheart.
After her life is threatened, she fears for her safety and that of her family. Will she be able to guard her own secrets to prevent even further danger? Will death be the consequence of falling in love with the wrong man?
What would you do if you knew you could live forever? How would you change your life? The world? Would you be the one to make it better? I thought the cure for aging would be the answer to so many of humanity's problems. I really believed this little pill would help us make the world a better place.
Yet all I have seen is the further deterioration of generosity, love, compassion and freedom. It has not brought out the better side of the human race. It has created a darker side where compassion and generosity are rare traits that are almost extinct. It has taken me over 400 years to realize that the end of aging does not give one freedom. Your body becomes a prison in which you are trapped and from which you can't escape.
It saddens me that the world has entered such a dark time, to the point where I no longer want to stay and witness the pain that we, as people, are putting ourselves through.
To many, this will come as a shock. My success has only forced me to put up a wall, one that keeps away even those who feel they are my closest friends. I do not trust anyone. The friends I have left only appear to be interested in their association with me to advance their own political aspirations in life.
I feel that if I can't offer the peace that eternal life brings to all, then none of us should have it. It is not fair of us to choose a select few to live far past an age that God has intended.
I have watched too many good people come in and out of this world, knowing that, "in the end," I could have saved them. However, like many other people, I had started believing that I deserved this gift, that it was my right, and that if a person was not smart enough or rich enough to buy this gift, then they did not deserve to obtain it.
Looking back on my life, I can see that I am the origin of all the world's troubles. As intelligent as I was to invent this amazing drug, I can't begin to imagine that I am brilliant enough to change the course of our planet.
My heart is broken, my soul damaged and weak. My resilience is nothing but a shadow left. I cry, for humanity, mother earth and the faith that we have lost in God. So the only thing left I can offer is the end. Tonight will be my last. I have settled my regrets, sins and all other misgivings with God and look forward to joining all of those I have cared for over my 400 years on this planet.
He slowly raises the gun and puts it into his mouth. With a quick fluid motion, the trigger is pulled.
About the Author
Tamara D. Taylor was born and raised in the East Bay of California until she moved to Omaha, Nebraska to attend Creighton University. Today, Tamara still resides in Nebraska where she and her husband, John, are raising their five young children.
A life long lover of all forms of the written word, Tamara is an avid reader, and has been writing short stories and poetry since elementary school. After watching her son struggle with succeeding in school, she decided to finally write the novel she had been thinking about for years in an effort to show her son that no dream is too big to achieve.
Her latest book is the YA, Believers: Truth in Deception.
For More Information
Connect with Tamara on Facebook and Twitter.
Find out more about Tamara at Goodreads.
Believers: Truth in Deception is available at Amazon.