BOOK TOUR REVIEW & GIVEAWAY: Confessions of a Queen B* by Crista McHugh
Confessions of a Queen B*
by Crista McHugh
YA Contemporary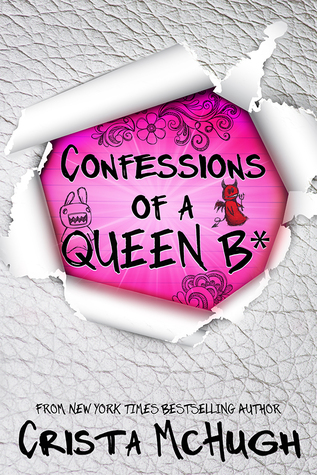 Book Description
Alexis Wyndham is the other type of Queen B—the Queen Bitch.
After years of being the subject of ridicule, she revels in her ability to make the in-crowd cower via the exposés on her blog, The Eastline Spy. Now that she's carved out her place in the high school hierarchy, she uses her position to help the unpopular kids walking the hallways.
Saving a freshman from bullies? Check.
Swapping insults with the head cheerleader? Check.
Falling for the star quarterback? So not a part of her plan.
But when Brett offers to help her solve the mystery of who's posting X-rated videos from the girls' locker room, she'll have to swallow her pride and learn to see past the high school stereotypes she's never questioned—until now.
MY THOUGHTS: 3 OUT OF 5 FLEURS DE LIS
Confessions of a Queen B* by Crista McHugh
This short tale gets three stars, but just barely. To be honest, it's full of stereotypical characters, decisions that make no sense, and predictable moments. But at its' heart, it had a compelling theme that kept me reading until I finished it in one sitting.
Our main character is Alexis, senior and resident gossip blogger at her high school. There apparently is enough going on at this school that Alexis has gained quite the rep: if you're trying to hide something nefarious, she will find out, and it will be posted on her blog for the entire school to see!
It should come as no shock that Alexis doesn't have many friends. Her besties are the outliers; a flamboyantly gay Asian kid, and a sex grazed Goth girl. Other than that, everyone else in school is pretty much scared of her. Except for one boy: quarterback and student body president Brett Pederson.
It just so happens that Brett and Alexis get paired up for a school project. Though Alexis does her bitchy best to repel him, Brett is immune and instead seems to want to get to know her better. Alexis must learn to let her guard down around him, which she never does with ANYONE.
As I said, the book is full of stereotypical characters–the gay boy that can only talk about penis (wtf, I know that's not all he thinks about), the head cheerleader with fake boobs, the quarterback that is nothing but perfect. I saw another review that said if you can remember Freddie Prinze Jr's character in She's All That, then you've got Brett–and that is a SPOT ON observation. Even when it comes to his parents putting pressure on him about college. That is literally the only problem he has in his life. He is too good to be true, and that does not make a good YA character.
Alexis does have a bit more depth, and getting peeks into her true feelings is what kept me interested. Alexis cannot let anyone see her true self; I think she does not know how. She's also concerned about losing her status at school, though she would never admit it. If she's not the Queen Bitch, then what is she? Her struggles with her identity are a bit buried, but there if you are looking.
Apparently this book is the first in a series, but I'm not sure if I'll be continuing. I might though, just to see what Alexis turns into once she breaks out of her high school mold.
About the Author
Growing up in small town Alabama, Crista relied on story-telling as a natural way for her to pass the time and keep her two younger sisters entertained.
She currently lives in the Audi-filled suburbs of Seattle with her husband and two children, maintaining her alter ego of mild-mannered physician by day while she continues to pursue writing on nights and weekends.
Just for laughs, here are some of the jobs she's had in the past to pay the bills: barista, bartender, sommelier, stagehand, actress, morgue attendant, and autopsy assistant.
And she's also a recovering LARPer. (She blames it on her crazy college days)
For the latest updates, deleted scenes, and answers to any burning questions you have, please check out her webpage, www.CristaMcHugh.com.