REVIEW: Hidden Bodies by Caroline Kepnes
***SPOILER ALERT!***
This review will contain elements about book one in this series, YOU, which will spoil the plot or ending for those who have not yet read it.
Hidden Bodies
by Caroline Kepnes
Thriller/Suspense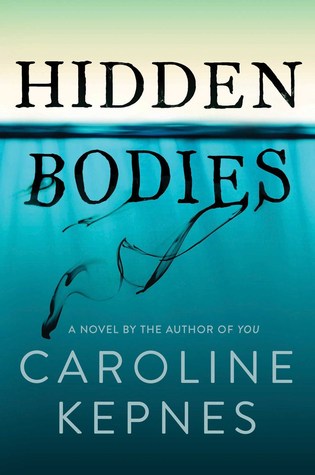 Book Description
Joe Goldberg is no stranger to hiding bodies. In the past ten years, this thirty-something has buried four of them, collateral damage in his quest for love. Now he's heading west to Los Angeles, the city of second chances, determined to put his past behind him.
In Hollywood, Joe blends in effortlessly with the other young upstarts. He eats guac, works in a bookstore, and flirts with a journalist neighbor. But while others seem fixated on their own reflections, Joe can't stop looking over his shoulder. The problem with hidden bodies is that they don't always stay that way. They re-emerge, like dark thoughts, multiplying and threatening to destroy what Joe wants most: true love. And when he finds it in a darkened room in Soho House, he's more desperate than ever to keep his secrets buried. He doesn't want to hurt his new girlfriend—he wants to be with her forever. But if she ever finds out what he's done, he may not have a choice…
MY THOUGHTS:
4 OUT OF 5 FLEURS DE LIS

Hidden Bodies by Caroline Kepnes
You have to compare this novel to its' predecessor, the excellent YOU, but I wish you didn't have to. I liked this book as well, but we are dealing with a very different Joe here.
Since killing his former girlfriend Beck, Joe has been trying to live a peaceful life with his now girlfriend Amy Adam (not a pseudonym at all, right?) and run the bookstore he so dearly loves. Unfortunately for him, he falls for the wrong girl yet again, but this time must chase her across the country to Hollywood to exact his revenge. Once Joe gets there, he is sucked into the dark underworld of celebrity, and realizes his personality may be just what he needs to survive out here.
So, in my opinion, YOU didn't really need a sequel. I loved the way it ended, wrapped up with Joe framing someone else for murder and essentially with the promise of another girlfriend on the horizon. But, we get to see how Joe has fallen for yet another girl who doesn't have his best interests at heart. In a way, it was refreshing to see this different side of Joe–because in this relationship with Amy, he had done nothing wrong. She lied and took advantage of him. But we know from YOU that his temper is beyond frightening, and he cannot let go of things when he is wronged.
I don't know if I liked Joe as much in this novel. In the first part of the book, he spends a ton of time complaining about Los Angeles, saying why is sucks in comparison to New York, and so on. Eventually though, he sees that every person in LA has something to hide, and that is why he fits in so much better than he thought he would. Joe's intensity is somewhat subdued from the first novel, and before long it seems he has forgotten why he went to LA in the first place.
I liked this book for completely different reasons than I liked YOU. We get to know Joe more here, and although I would never use the word "likeable" to describe him, there's no denying is is charismatic and it's a wonder he can pass for normal in society at all, given the childhood he has experienced. Still, he is a psychopath and that fact is never far from your mind when you read the detached way he describes his killings.
I can't wait for the next book in this series, and I commend Kepnes for coming up with such an unforgettable and enigmatic character as Joe Goldberg.
ABOUT THE AUTHOR
Caroline Kepnes is the author of You, Hidden Bodies and Providence. She has worked as a pop culture journalist for Entertainment Weekly and a TV writer on 7th Heaven, The Secret Life of the American Teenager and the upcoming adaptation of You. Originally from Cape Cod, Massachusetts she now writes full-time and lives in Los Angeles.