How to Make Cleaning your House Easier When you are a Parent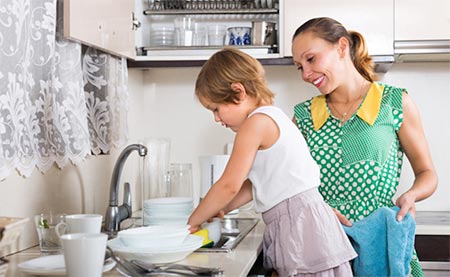 Let's face it. The duties of being a parent are never-ending.  
Our day-to-day consists of getting everyone ready for school, paying the bills, checking items off our to-do list, having dinner ready for all at night, and ensuring that everyone is ready for bed to start preparing for the next day.  
Our days spent as parents can often be described as cyclical since they tend to occur in the same fashion each and every day.  
Think about your day as a parent.  Besides the cycle just mentioned, what other variables can get thrown at you during the day?  
Some deal with work, socialization, and other outside factors as well.  
However, there is one common that all parents also handle, which is making certain that the house stays organized and clean on a daily basis.  It can be hard to make time for this to happen!  With all the other commitments and obligations we have as parents, sometimes, this step can fall through the cracks, but it doesn't have to be that way.  
There are ways to keep up with your day-to-day and also keep up with the upkeep of housework, too.   
How can you make it happen?  Here are a few tips on how to make it easier on yourself when you clean your home.
Think small.  If you stop and think that you have the entire house to clean, it can be overwhelming.  Start small, and break it up into floors or sections.  Instead of saying that you need to clean the entire house, start by saying that today you are going to focus on only the bathrooms in your home.  Making it sound smaller or more of a simple to-do task also makes it feel more manageable and doable.

Involve the kids.  Who says that parents should be the only ones that are required to clean?  Everyone in your family lives in the house, so why not have everyone in the family help to keep that house clean?  Have a weekly chore list assigned to each child in the home (

Pinterest

has some nice ones you can print out).  Giving tasks such as cleaning their room, sweeping and vacuuming the common areas and washing, drying and putting away the dishes are great chores that kids can help do.  It also helps to relieve some of those items that you have to do on your to-do list!

Set a cleaning schedule.  Take out the work of thinking about what needs to be cleaned each and every day, and set a schedule so you automatically know what to clean based on whatever day of the week it is.  Have Monday be laundry day, Tuesday is the day to clean up the living room, Wednesday can be bathroom day…and on and on.  Leave a bit of extra time in case there happen to be areas that need some extra attention or a surprising mess that needs to be quickly cleaned, but overall, planning your days to clean certain areas will also help with your time management skills.

Invest in good cleaning products.  While cleaning products may be expensive to buy, it is also good to have products that aid in the efficiency of how you are able to use them.  This goes for detergents, brooms, vacuum cleaners, and even your own iRobot robotic cleaner if you can afford it (

Parenting Pod

has a good summary of the different models available). Looking for a steamcleaner? You can find more information on steamclean.reviews.

Remove items that don't belong in rooms.  In homes with children, toys are more than likely scattered from room to room.  Start removing items in each room that don't belong there.  Once you have those items in hand, immediately take them to the space or room where they should be.  By doing this, it instantly helps to clear up clutter and make the room appear less-crowded and more manageable.  Most messes start with a foundation of clutter, so by lessening that from the beginning, the cleaning factor may also feel less daunting as well.
As a parent, cleaning is one of the chores that tops our list.  While it can be hard at times to be motivated to stay on top of cleaning up the house and all the messes that show up on a daily basis, it doesn't have to be.  
Try the suggestions listed above to see if they can help you make that cleaning a tad bit easier.  Before you know it, your home may have such a great cleaning routine going on that the upkeep that goes along with it may take minimal time out of your daily schedule!