BOOK TOUR REVIEW: Girl Unknown by Karen Perry
Girl Unknown
by Karen Perry
Family Drama/Thriller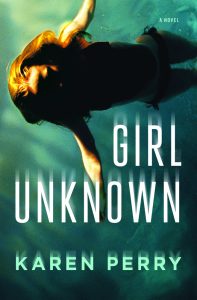 Book Description
David and Caroline Connolly are swimming successfully through their marriage's middle years—raising two children; overseeing care for David's ailing mother; leaning into their careers, both at David's university teaching job, where he's up for an important promotion, and at the ad agency where Caroline has recently returned to work after years away while the children were little. The recent stresses of home renovation and of a brief romantic betrayal (Caroline's) are behind them. The Connollys know and care for each other deeply.Then one early fall afternoon, a student of sublime, waiflike beauty appears in David's university office and says, "I think you might be my father." And the fact of a youthful passion that David had tried to forget comes rushing back. In the person of this intriguing young woman, the Connollys may have a chance to expand who they are and how much they can love, or they may be making themselves vulnerable to menace. They face either an opportunity or a threat—but which is which? What happens when their hard-won family happiness meets a hard-luck beautiful girl?
MY THOUGHTS:
4 out of 5 FLEURS DE LIS
Let me start by saying that this book has a very slow burn. Usually, I would have given up on a book in which the plot moves do slowly, but I could sense that the relationships between the characters were the main attraction here and what needed to be watched more than plot development. But if you're expecting a lot of things to happen, this is not the book for you.
David and Caroline's marriage was probably not hanging on by much anyway, by the time Zoe came into their lives. Zoe claims to be David's daughter from a previous relationship, and Caroline, who has always known that Zoe's mother was the real love of David's life, is rocked to see such a reminder of his past back in their lives in the present. Add to this the fact of the children David and Caroline have and their not taking too kindly to this wisp of a girl, and the whole book simmers like a pot about to boil over.
From the first meeting between David and Zoe, I could tell something was up with here. It's hard to believe David couldn't see through her, but in my opinion he wanted that connection to his past so badly, he chose to see what he wanted to see when it came to Zoe. Zoe is not a good person and that is confirmed by multiple people throughout the novel, but she has a way with men and can usually get them to see her innocent persona when she needs them to.
As a woman I couldn't help but feel for Caroline, though she was not entirely innocent through this story. She strayed from David, but who among us wouldn't be hurt upon learning our spouse only married us as a second option? I don't know if I ever really felt any love between the couple.
I would say the main problem I had with Girl Unknown is that only Caroline seemed to be able to see through Zoe's flaky shield. She couldn't get David to believe her, even when blatantly mistreated by Zoe, and this just put the nails in the coffin of their marriage. Zoe was able to way too easily manipulate so many people.
The final chapters of this book are amazing. They tell what unfolds from a distant third person point of view, and it's chilling to see. I was not expecting anything that happened, and I was left in shock for the last few pages. Girl Unknown is a dreary but highly entertaining read that those who enjoy tales of family intricacies will love.
About the Authors
Karen Perry is the pen name of Dublin-based authors Paul Perry and Karen Gillece. Together they wrote Girl Unkown.

Paul Perry is the author of a number of critically acclaimed books. A recipient of the Hennessy Award for New Irish Writing, he teaches creative writing at University College, Dublin.
Karen Gillece is the author of several critically acclaimed novels. In 2009 she won the European Union Prize for Literature (Ireland).
Connect with them on Facebook.
Purchase Links