REVIEW: The River at Night by Erica Ferencik
The River at Night
by Erica Ferencik
Thriller/Suspense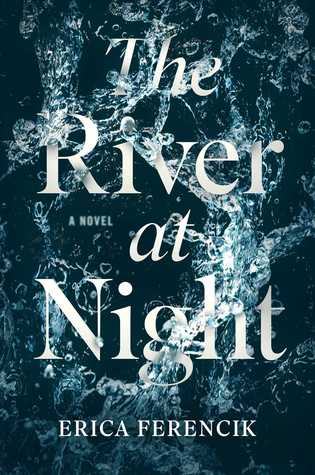 Book Description
A high-stakes drama set against the harsh beauty of the Maine wilderness, charting the journey of four friends as they fight to survive the aftermath of a white water rafting accident, The River at Night is a nonstop and unforgettable thriller.
MY THOUGHTS:
3 out of 5 FLEURS DE LIS

The River at Night by Erica Ferencik
It occurs to me that I have never read a book about surviving in the wilderness, and because that was what I was expecting this book to be about, I now want to. But, The River at Night was not the book I expected it to be.
A group of four friends in their late thirties go to Maine to conquer a tough whitewater rapids along with a young guide. Though the friends have all been through their own struggles, both separately and among themselves, only the bravest of them, Pia, is even close to being physically and psychologically ready for this adventure. Through a series of freak accidents and bad decisions, the women become trapped in the forest with a raging river and a very unexpected threat chasing them as they attempt to make it home alive.
The story is told through the point of view of one of the women, Wini, who is stuck in a job which will soon be obsolete and is on her own after a failed marriage. The rest of the group consists of Pia, the thrill seeking leader who pushes her more introverted friends to take these dangerous vacations; Rachel, an RN and recovering alcoholic who balances her blunt manner with a deep love for her friends; and Sandra, a mother who is recovering from cancer and getting ready to leave her marriage.
The women were not feeling great about going on the trip in the first place, and some sketchy things happen before they even get started that would have made some people run. The friends, though, all have some desire to impress and follow Pia, so they do. This is one of the main things I couldn't understand about the dynamic between the characters. I am not that far behind these women in age and I feel like if you have been friends with someone for fifteen years, as they all claim to have been, this feeling of needing to prove yourself to your friend should be long past. Especially if you have been at each other's sides through tough situations.
I also thought that the plot pacing was off. It took half the book until the group really got into the river and started their journey, and then while there were some heart racing and action packed scenes in between, the end seemed to come very fast after the women came across their threat. I also didn't feel like there was enough follow up to the end, and I just wanted more of a sense of how all the women were affected after the events.
All in all this was not a bad book, but as I said, just not what I expected. It's sort of a nature/suspense novel with the bonds of friendship tying it all together. It makes a sort of sense in its' way, and others might like it better than I did.
About the Author
Oprah chose Erica Ferencik's debut novel, The River at Night, (Simon & Schuster, Gallery/Scout Press,) as a #1 Pick, calling the book "the page-turning novel you've been waiting for, a heart-pounding debut." Entertainment Weeklynamed it a "Must Read," and calls the novel "harrowing…a visceral, white knuckle rush." Jungle, a thriller set in the Peruvian rainforest, will be released in late 2018. Her work has appeared in Salon and The Boston Globe, as well as on National Public Radio. Her novel, Repeaters, has been optioned for film.
Buy Links:
Simon & Schuster
Amazon
Barnes & Noble
Books-A-Million
IndieBound
iBookstore (ebook)
Kindle (ebook)
Nook (ebook)
Google Play (ebook)
Social Media:
Twitter
Facebook
Goodreads
Instagram