BOOK TOUR REVIEW: If I Die Tonight by Alison Gaylin
If I Die Tonight
by Alison Gaylin
Mystery
Book Description
Late one night in the quiet Hudson Valley town of Havenkill, a distraught woman stumbles into the police station—and lives are changed forever.
Aimee En, once a darling of the '80s pop music scene, claims that a teenage boy stole her car, then ran over another young man who'd rushed to help.
As Liam Miller's life hangs in the balance, the events of that fateful night begin to come into focus. But is everything as it seems?
The case quickly consumes social media, transforming Liam, a local high school football star, into a folk hero, and the suspect, a high school outcast named Wade Reed, into a depraved would-be killer. But is Wade really guilty? And if he isn't, why won't he talk?
MY THOUGHTS:
2.5 out of 5 FLEURS DE LIS

If I Die Tonight by Alison Gaylin
Jackie is a single mom of two teenage sons: Connor, the youngest, is mostly obedient and helpful to his mom, but Wade, who used to be his mom's sidekick, has been secretive and seems to have a dark cloud hanging over him for the past several months. When a classmate dies, Wade is implicated in the accident and soon the little town turns on him and his family. But if he didn't do it, and he won't reveal the truth to his own mother, how can he clear his name and stop his life from being ruined?
From the beginning, I wasn't as into this mystery as I could have been. Teenage boys hiding something is nothing new, and some of the plot points seemed very obvious to me. I also thought the progress was very slow, and this wasn't helped by the author throwing in all kinds of relatively useless information about the characters.
So we have a washed up rocker named Aimee, who claims that she was robbed after a show one night by a teenage boy in a black hood. When Liam, the victim of the story, tries to stop the robbery, he is hit by Aimee's car and dies. There are multiple suspects including Aimee herself, and it's like extracting teeth to get any of the players involved to tell the truth about the night of the accident.
I didn't like how the mother, Jackie, basically ALLOWED her son to be so shady and hide things from her. Yes, I know, teens will do that, but when someone has died, the kid doesn't GET to have secrets anymore. I also wouldn't have sent him to school in such a situation, but Jackie did. There were some bad parenting decisions made for the majority of the book. I also felt that Wade was highly overdramatic, and when the truth finally came out about what he'd been keeping from his mother, it wasn't as serious as the life or death situation he was trying to take the blame for instead. I couldn't believe the kid would rather go to prison than tell his mom the truth.
The author does a fine job of making you suspect that maybe Wade really did kill Liam, but there are so many other characters involved in the incident of that night that your attention is thrown in a lot of different directions. In the end, there is a deus ex machina that really just brought the story to a rather bland ending.
I know this is a thriller, but I didn't feel any thrills at all. I would recommend avoiding this one as it's quite forgettable.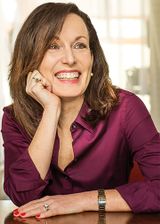 About the Author