REVIEW: The Wonder by Emma Donoghue
The Wonder
by Emma Donoghue
Historical/Literary Fiction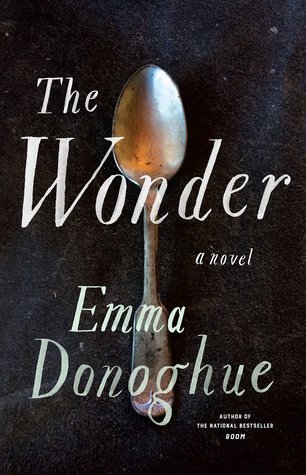 Book Description
In the latest masterpiece by Emma Donoghue, bestselling author of Room, an English nurse brought to a small Irish village to observe what appears to be a miracle-a girl said to have survived without food for months-soon finds herself fighting to save the child's life.
Tourists flock to the cabin of eleven-year-old Anna O'Donnell, who believes herself to be living off manna from heaven, and a journalist is sent to cover the sensation. Lib Wright, a veteran of Florence Nightingale's Crimean campaign, is hired to keep watch over the girl.
Written with all the propulsive tension that made Room a huge bestseller, THE WONDER works beautifully on many levels–a tale of two strangers who transform each other's lives, a powerful psychological thriller, and a story of love pitted against evil.
The latest masterpiece by Emma Donoghue, bestselling author of Room.
MY THOUGHTS:
3 out of 5 FLEURS DE LIS
A little word of warning: if you are planning on listening to this story in audiobook format, as I did, then you should know that the narrator puts on a thick Irish brogue for some characters that can be hard to understand. For this reason, I kind of wish I had just read the book instead.
The story is set in August 1859, and is told from the point of view of Mrs. Lib Wright, who after becoming widowed set off to serve as a nurse under the training of none other than Florence Nightingale herself. Lib is sent to a private household in Ireland to maintain a two week watch on a little girl named Anna O'Donnell. Anna claims to not have taken food for the past 4 months, and Lib is being sent to confirm whether that is true.
Many of the people of the town and beyond its' borders have come to view pious Anna as a sort of miracle child. Lib starts her job with a biased, skeptical mind but soon comes to know the child better and just how much her religious beliefs mean to her. When the truth behind Anna's motivations for her fast are revealed, Lib is rocked and sets out to do what she can to help Anna realize the consequences of what she is doing.
I chose this book because of the mystery aspect of it–a child hasn't eaten for four months? How is she alive? But soon, I was taken in by Anna and her congruous nature, both painfully innocent and wise beyond her years. The entire first half of the novel is basically laying the foundation for the reader to get to know Lib and the O'Donnells, and to see a sort of friendship grow between the nurse and the girl.
It's frustrating, as a mother, to have a child that turns down food, so the idea of having to watch as your does this for four consecutive months is terrifying. It's also terrifying that Anna's parents believed so much in their daughter's obsession with her religion that they allowed this to go on. But it was a different time, and a different country, so I had to kind of just go along with the fact that they did let it happen. So many people were complicit in Anna's fasting and it was very disheartening to see that this child was continuously allowed to make her own decisions.
As far as the main plot, it started off really slowly but I was glad for the slow burn because when all was revealed towards the end, I was truly shocked at what had transpired. There's a subplot with a romance angle, which was kind of OK but I did see it coming from miles away.
This is a difficult book to review without giving away the heart of the story, but I'll say I think it will appeal to a large audience of readers. Whether you're a believer or not, The Wonder will make you think about your own relationship with your higher power and how it has a hold on your life and the lives of those you love most.
About the Author
Emma is the youngest of eight children of Frances and Denis Donoghue. She attended Catholic convent schools in Dublin, apart from one year in New York at the age of ten. In 1990 she earned a first-class honours BA in English and French from University College Dublin, and in 1997 a PhD (on the concept of friendship between men and women in eighteenth-century English fiction) from the University of Cambridge. Since the age of 23, Donoghue has earned her living as a full-time writer. After years of commuting between England, Ireland, and Canada, in 1998 she settled in London, Ontario, where she lives with her partner and their son and daughter.
PURCHASE THE BOOK