REVIEW: Baby Teeth by Zoje Stage
Baby Teeth
by Zoje Stage
Thriller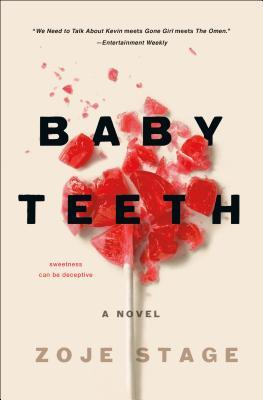 Book Description
Sweetness can be deceptive. 
Meet Hanna.
She's the sweet-but-silent angel in the adoring eyes of her Daddy. He's the only person who understands her, and all Hanna wants is to live happily ever after with him. But Mommy stands in her way, and she'll try any trick she can think of to get rid of her. Ideally for good.
Meet Suzette.
She loves her daughter, really, but after years of expulsions and strained home schooling, her precarious health and sanity are weakening day by day. As Hanna's tricks become increasingly sophisticated, and Suzette's husband remains blind to the failing family dynamics, Suzette starts to fear that there's something seriously wrong, and that maybe home isn't the best place for their baby girl after all.
MY THOUGHTS:
4 out of 5 FLEURS DE LIS
I haven't really read a book with homicidal children, but now that I have I understand that it's kind of a subgenre in horror. Baby Teeth was certainly enough to give me a few chills here and there.
This story is told in alternating points of view between a mother and daughter who cannot get along, and each has their own reasons for having a difficult time dealing with one another. Suzette is a mother who's been forced to stay at home the past few years because she and her husband have not been able to find a school that can handle her defiant and behaviorally complex daughter. Though she has the support of her husband, he dotes on Hanna and does not see the abhorrent way she treats her mother. At times this makes Suzette feel like an outsider in her own home. Hanna is 7 years old. She's nonverbal, and the only person she even remotely cooperates with is her father. Hanna has been ejected from every school she's been sent to, and it's clear she wants her mother out of the picture. What's scary is how far she's willing to go to accomplish that.
Absolutely the most amazing part about this book is seeing just how Hanna thinks, and how cold and calculating she is. I think some might say the way she plans things is very much above the level of a typical child her age, but she's not typical and I believe some of her strategies could not be out of the realm of possibility for a highly intelligent child.
It's also interesting to see how much Suzette is truly struggling with whether or not she loves her daughter the way she should, and how she can't stop obsessing about where she might have gone wrong. We are given some background on Suzette's life as well, which helps build up the basis that the way you parent is really decided years before you become a parent.
At its' core, the book is about recognizing that something might be wrong with your child and how long it takes you to figure out that you cannot deal with their behavior on your own. Almost every parent I know prides themselves on how they've raised their child, but when you've done the best you possibly can and things still haven't turned out normally, where do you go from there? I kept waiting for a happy, concrete ending to Baby Teeth, but just like real life, the future of this child is uncertain.
I would recommend this book for parents and also those who like a good look into the mind of an abnormal person, no matter what the age.
About the Author
Before turning to novels, Zoje Stage had a deep and eclectic background in film and theatre. Highlights include being a 2012 Emerging Storytellers Fellow from the Independent Filmmaker Project (IFP.org), and a 2008 Fellow in Screenwriting from the New York Foundation for the Arts (NYFA.org). In 2009 she won the Screenplay Live! Screenwriting Competition, which afforded her the opportunity to direct a staged reading of her winning script, THE MACHINE WHO LOVED, for the High Falls Film Festival (Rochester, NY). Zoje has written-directed-produced numerous zero-budget films, including the documentary short BEST OF LUCK ("an amusing take on the travails of aspiring writers" – The New York Times). Her films have screened at venues such as Anthology Film Archives and Two Boots Pioneer Theater (both in NYC), Film Kitchen (Pittsburgh, PA), and Emerging Filmmakers (Rochester, NY). As a playwright, Zoje is most proud of her play MONSTER, which was produced in Pittsburgh by the Upstairs Theatre ("Ms. Stage now makes her own contribution to holocaust literature with a demanding and intensely felt play… a must-see for those wanting another view of why and how the holocaust happened." – The Pittsburgh Post-Gazette). After living in Rochester, NY for many years, she is back in her hometown of Pittsburgh, PA.