BOOK TOUR REVIEW: I'll Be Watching You by Courtney Evan Tate
I'll Be Watching You
by Courtney Evan Tate
Mystery/Thriller
Book Description
IT'S EVERY MOTHER'S NIGHTMARE…BUT ONE SHE WILL NOT ACCEPT
In an unthinkable flash, Emmy Fisher's fifteen-year-old daughter, Leah, seemingly drowns close to shore one summer night—at least that is what the police report says.
In deep grief, Emmy needs time and courage before she can enter Leah's bedroom. But when she does, she finds something at first bewildering, then unspeakable, as she begins to understand the full implications…
She uncovers evidence that Leah had been secretly involved with someone, someone perhaps older, someone with dark appetites.
Bit by bit, the last few months of Leah's life unfold in a terrifying way that Emmy can hardly imagine.
All she knows is that she has to find the person who took her sweet daughter's innocence. No matter the cost.
The truth will set her free. Or bury her.

MY THOUGHTS:
3 OUT OF 5 FLEURS DE LIS
Leah Fisher is 15 years old, pretty, popular, and living her best life as the daughter of an innkeeper on an island off of Florida. So when she disappears into the ocean on the night before starting her sophomore year, it's a shock to everyone–no one more so than her mother, Emmy. As Emmy deals with her grief in the passing weeks, she slowly uncovers the things that her young daughter was hiding, and begins to think that maybe Leah wasn't the victim of a shark attack after all.
I read this book pretty quickly, and it was intriguing in that the traumatic event of Leah's death happens very quickly in the beginning. As it continued though, I found the plot to be kind of formulaic and the characters lacking a lot of depth.
Because the loss of Leah happens after only a few pages, we don't really get any insight into her relationship with her mother and what their day to day life was like. The background we get is that Leah's parents were divorced, and that her mom worked in the inn constantly and therefore Leah felt like she didn't have anyone to talk to. Leah ends up being not so perfect after all, and gets involved in a situation she can't get out of that quickly becomes dangerous.
There are a few red herrings and dead ends that the author leads you down. I didn't find the end to be a complete shock, but the reasons behind the plot were very out of left field for me.
The chapters alternate between Emmy in present day, and flashbacks of Leah's last weeks. There are also some times where the point of view switches for seemingly no reason between first and third person, and this was kind of annoying.
Overall I thought this was a fine quick beach read, but don't go here looking for too much of a deviation from the standard mystery/thriller tropes.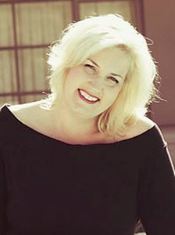 About the Author
Courtney Evan Tate is the nom de plume for New York Times bestselling author, Courtney Cole.  Courtney Evan Tate is her darker side… the side that explores shadowy places.
Courtney lives in Florida with her husband and kids.  She has a passion for raising drug addiction awareness, the Marine Corp (her middle son is a Marine) and being introspective on the human condition.
Connect with Courtney
Purchase Links