Make Your House Feel Like a Home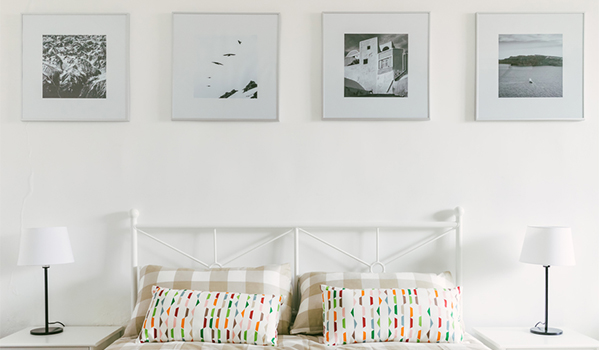 When you are looking to move into a property, you may not be bowled over by its appearance straight away, but if space and layout is exactly what you're looking for don't let the appearance stop you from buying it. Once you have bought it, you can always make the necessary changes that will help you to feel at home in a new space. If once, however, you have unpacked your things, and there's still a tinge of newness in the air that outweighs any relaxation or comfort then it's time to do something about it.
There's a huge difference between living in a property out of necessity and feeling truly at home. This is even more the case if you're renting a property and are concerned you'll have no control over your own interior style. Essentially, only you know what makes a place feel homely. The points below should help you turn a dull and lifeless property into a place you are proud of.
Hang art
One of the first things many people do when they move into a property is to hang art on the walls. According to research, this is one of the most effective methods of feeling comfortable in your new abode. It has been proven to reduce our stress levels and make us feel much happier in ourselves. Hanging art helps encourage your personality to shine through and adds your individual interests to your space. You may even like to frame photos of your family and friends and dot them around the property, so you feel safe and at home.

Bring a few things from your childhood home

For many of us, where we lived as a child gives the illusion of what a home should be. It's where we made our first memories and where we felt safe and comfortable. So, if you're moving out of your childhood home, you're bound to feel daunted at the prospect of an unfamiliar, bland property.
It would be a great idea to bring along a few items from the family home that remind you of your childhood; whether it be board games for the dining room, a special piece of furniture from your bedroom or a few cuddly toys. No matter where you're living, having these items close by will give you immediate comfort.
Do some renovations
It can often be hard to settle into a property if the space isn't working for you. You may have had to purchase a home for practical purposes to be near work or family but aren't too sure it's quite the right layout to suit your lifestyle. In this case, it would be an idea to think about knocking down walls which make your space feel cramped and isolated. A builder will be your first point of call to get the ball rolling on this project, but it would also be a good idea to think about all the small jobs that follow the main building works. Get in touch with a local handyman who can carry out those extra DIY and small household tasks to finish off your home renovation projects
Adopt a pet
A house is not a home without an abundance of love, and what could do the trick better than a loving pet? Research has found that pets have the ability to reduce our stress levels and give us a much more positive state of mind. As soon as you walk through the door at the end of a long, hard day at work, you know your pet will be waiting to see you. With that being said, make sure you have the time to dedicate to adopting a pet as they take a lot of time and commitment. If you don't want the commitment of a dog but want a nice pet then you're best off adopting a cat. There are many large cat breeds if you want a good pet to cuddle with without the barking.

Think about the importance of lighting
There's nothing more unappealing in a house than poor lighting, so make sure the lights in your home give out warm shades of yellow, rather than a bright white fluorescent glow. In the dark days of winter, you're likely to need the light on throughout the day, so you don't want anything too bright or harsh. Dull, warm lighting is an easy way to provide a relaxed feel in the home. In fact, any room can be made instantly more homely with the introduction of some well-positioned lamps, wall lights, or fairy lights.
A house should be more than just a space to flop at the end of a hard day at work. It should be your safe zone where you feel the most relaxed, as well as somewhere to be proud of for inviting friends over. The more personalized you make the house, the more you'll enjoy living in your humble abode.