Category Archives:
book tour
The Baby Plan
by Kate Rorick
Women's Fiction/Chick Lit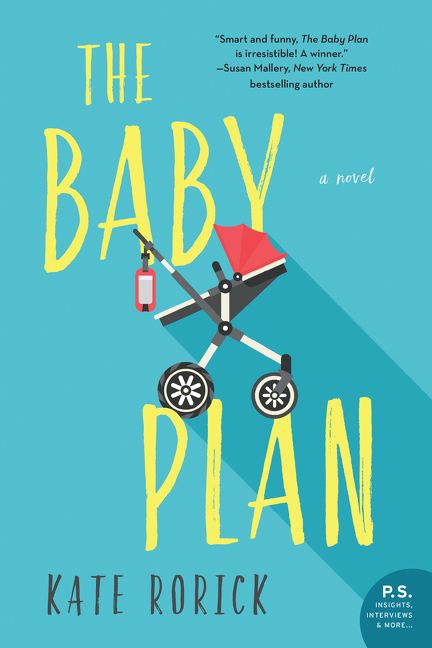 Book Description
In The Lizzie Bennet Diaries creator Kate Rorick's first adult fiction novel, we enter the wild, bewildering world of modern pregnancies. You'll laugh, you'll cry, you'll shake your head as you wonder where everyone's sanity went…
Meet the mothers…
Nathalie Kneller: Nathalie's plan: to announce her pregnancy now that she's finally made it past twelve weeks! But just as she's about to deliver (so to speak) the big news to her family, her scene-stealing sister barfs all over the Thanksgiving centerpiece. Yup, Lyndi's pregnant too, swiping the spotlight once more…  
Lyndi Kneller:  Lyndi's plan: finally get her life together! She's got a new apartment, new promotion, new boyfriend. What she didn't count on—a new baby! She can barely afford her rent, much less a state-of-the-art stroller…
Sophia Nunez: Sophia's plan: Once she gets her daughter Maisey off to college, she'll finally be able to enjoy life as make-up artist to one of Hollywood's biggest stars, and girlfriend to one of rock's hottest musicians. But after 18 years she discovers the stork is once again on its way…
Now these women are about to jump headlong into the world of modern day pregnancy. It's a world of over the top gender reveal parties (with tacky cakes and fireworks); where every morsel you eat is scrutinized and discussed; where baby names are crowd-sourced and sonograms are Facebook-shared. And where nothing goes as planned…

MY THOUGHTS:
2 out of 5 FLEURS DE LIS
Chick lit is a genre I don't mind dipping into when I feel the need for some light and humorous escapism. This book though, made me frustrated and annoyed for most of the time.
The story centers around 3 connected women who all happen to be pregnant at the same time: Nathalie (I don't care how you say it's pronounced, it's IMPOSSIBLE for be to read it without a TH sound), a 33 year old teacher, her sister Lyndi, and Sophia, a makeup artist in her late thirties who has another daughter getting ready to graduate from high school. Although the three women are pregnant, they are all at different places in their lives and dealing with the expectancies others push onto them.
I can't say I liked any of the characters in this book. They all were rude or careless or just plain naive. And it's an easy plot device that all three have baby daddies that start acting like jackasses. Nothing anyone did in this entire novel made much sense at all.
I have had 2 children, so I guess I am supposed to relate to what each character is experiencing, but I didn't really. Though I had a lot of the physical symptoms mentioned, I don't think I lost my sense of logic as these women do, and I believe that it's really an overused trope to say that pregnant women are highly emotional and "crazy."
Finally, and most annoyingly, there were several plot lines that just didn't bother to get wrapped up at all. I can't mention them specifically for spoiler reasons, but issues between Nathalie and her husband don't get a sense of closure or a reason at all. The end felt rather sloppy.
If you like to read chick lit with humor, there are better options out there. Sadly, The Baby Plan stuck to cliches and predictable plot elements to tell its story.
About the Author
Kate Rorick is an Emmy Award–winning writer who has worked on a number of television shows, most recently The Librarians on TNT. She was also a writer for the hit web series The Lizzie Bennet Diaries, and authored the two series tie-in novels, The Secret Diary of Lizzie Bennet and The Epic Adventures of Lydia Bennet. In her other life, she writes bestselling historical romance novels under the name Kate Noble. Kate lives in Los Angeles with her family.
Find out more about Kate at her website, and connect with her on Facebook, Twitter, and Instagram.
Purchase Links